You are here
Teen's anti-bullying campaign gets social media boost from NBA superstar LeBron James!
Wednesday, June 6, 2018 - 20:58
By Gary White  
FLORIDA — Jaylen Arnold has no hopes of ever making the NBA. Arnold, 17, joined the basketball team last year at Victory Christian Academy, and he says the results were "no bueno."
Even so, he can now claim to have received one assist from the NBA's most glittering luminary, LeBron James.
For a recent 24-hour period, Arnold shared social media space with James, a four-time NBA Most Valuable Player. A one-minute video of Arnold describing his anti-bullying organization, Jaylens Challenge Foundation, played beginning late Monday night on James's Instagram profile.
James, a high-scoring forward with the Cleveland Cavaliers, has 37.3 million followers on Instagram. Arnold, a Lakeland resident, said his own Instagram following jumped during the time the video appeared as a story —and a highlight — on James's Instagram feed.
"Of course, my friends and kids at school and teachers, they were freaking out," Arnold said Wednesday. "They were really excited about it. Even on social media it was crazy, the boost we had gotten and the comments and the following. It was clear he had helped us get so much light shed on the message."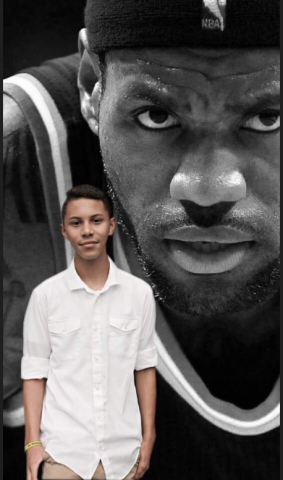 James generally refrains from social media activity when his team is in the NBA Playoffs. The Cavaliers are now battling the Boston Celtics in the Eastern Conference finals.
Cleveland lost 107-94 Tuesday night to fall behind 2-0 in the best-of-seven series. James scored 42 points.
During the playoffs, visitors to James's Instagram feed have found short videos featuring children and young adults talking about their activities as entrepreneurs, activists and authors.
Robin Eckelberger, Arnold's mother, said the social media invitation came as a surprise. A few weeks ago, she heard from a woman who said she represented a high profile athlete and asked about having Arnold make a video.
After a little research, they determined the woman was indeed a prominent marketing professional - Eckelberger said she is cautious about her son's associations and as such requested the name of the athlete. Eckelberger said she recognized James as one of the world's most famous athletes.
Arnold said he respects James for his off-court activism.
The video was shot by a Jaylens Challnge board member in the locker room at Victory Christian Academy. Arnold, wearing a blue polo shirt with his organization's logo on it, looks at the camera and explains that he started his campaign at age 8 after he endured bullying because he has Tourette syndrome and Autism spectrum disorder.
At the end of the video, Arnold's Instagram handle (@jaylenschallenge) appeared.
Eckelberger said the video received more than 2,000 likes and 80 comments and prompted about 200 personal messages, some from youngsters who admitted feeling suicidal because of bullying.
It's not Arnold's first brush with a celebrity. He has appeared on Ellen DeGeneres's TV show, had his own Nickelodeon Show, and during the ceremony for the World of Children Awards in New York, he spent time with actress Anne Hathaway on several occasions.
"We don't have anyone from our team reaching out to people," Eckelberger said. "These opportunities just come to Jaylen, and that's why I say he's so blessed. Every time we think he's done it all, something like this comes along and you go, 'Wow.' "
Arnold, who is dual-enrolled at Southeastern University, said it's too soon to say just how much his foundation will benefit from James's assist.
"We have no idea, but we have big hopes because he definitely has one of the largest followings on social media," he said. "That's a lot of people anti-bullying was exposed to. Thanks to him, this could lead to who knows what. We are so thankful for his activism."
Original post in Newspaper: May 16, 2018